Database Creation and Distribution for All!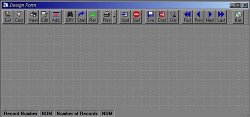 Click on images for larger version
Designa DataBase v1.0 is a fully featured database development tool which can be used by anyone to create professional looking, uniquely tailored database solutions - without ANY programming knowledge.
Simply 'drag & drop' controls, datafields, labels and images to create the 'look and feel' of your data application. The program will then automatically create a database backend to connect to your form and bring your data solution alive!
You are then able to use your application on your own machine or distribute it to others for them to create their own database using your design - the program automatically creates all distribution files to quickly and easily install the required system files to your clients machine(s)!
Your 'compiled' data application will have full search facilities as well as printing and data back-up features, providing you and your clients with a fully featured database solution.
Designing databases using 'conventional' methods requires at least some programming knowledge and experience as well as requiring the use of expensive and often complex software packages. Designa DataBase enables anyone to create database applications for personal, commercial and business use quickly, easily and very affordably.
Users of this software:
Businesses - create sales trackers, personnel records, stores inventories, job sheets / records, etc.

Personal Use - create databases for address books, financial information, CD content information, vehicle service records, etc.

Clubs & Societies - create membership records, bookings, keep track of loaned equipment, etc.
ANYONE with a need for any type of data solution will benefit from Designa DataBase
Features of the main Admin / Creator program:
Features of the User program (compiled from your design):

Designa DataBase - The easiest way to create professional looking database applications
Designa DataBase can be downloaded for a FREE ten use trial - simply click the 'Download' button below. If you would like to purchase Designa DataBase, please use our on-line purchase system by clicking the 'Registration' button below. The cost is just £99.00 (UK Pounds) and your registration number will be sent immediately via email. Please ensure you have the serial number from your Designa Database program before ordering (you are given this number whenever you run Designa DataBase).








If you have any further questions about Designa DataBase, please
---