Click on thumbnails for larger images.





Prediction of dial-in or throttle stop setting based on current atmospheric conditions and a previous run.

Ability to input weather conditions in either metric or imperial units.

Database facility to enable data for each run to be stored (not only weather data but performance data also).

Prediction of ET based on historical data - the previous run, one from last week, one from last year - you choose.
Very user friendly.






Multiple databases in one program. This allows separate databases to be kept of different tracks, different car set-ups, even different cars. Up to eight databases can be held on one program.

Data Protection. Data can only be changed during the EDIT mode, so making accidental data changes less likely. The default mode is VIEW which, as the name suggests, only allows data to be reviewed. EDIT is for making data changes and ADD is for adding new runs to the system.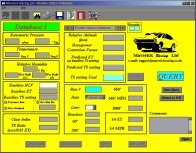 Query / Search facility. Searches can be made of the database for previous runs that match criteria you search for. The criteria can be from one field (e.g. ET of 9.900) or from multiple fields (e.g. ET of 9.900 and air temp of 70F). All matching runs are returned. The returned runs can also be used to export data into the Throttle Stop Tuner or the ET Prediction Tuner.


Notes section. Each run now has a comprehensive 'notepad' for you to add your own data. It is also searchable from the search facility.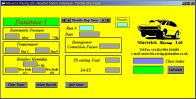 Throttle Stop Tuner. The program has the ability to recalculate your throttle stop ratio (the amount of 'stop' needed to slow the car by 0.01 seconds) from runs already made. It compares the predictions to the actual ET's and is then able to recompute the throttle stop ratio to give you greater dial-in accuracy. The program will then use this new ratio for future calculations. As far as we know, no other weather station program has this feature.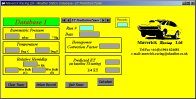 ET Prediction Tuner. Because of the wide variety of drag racing vehicles, no prediction software can accurately work with them all. However, our software has the ability to 'learn' your vehicle's characteristics. Using the ET Prediction tuner, you can actually fine tune the algorithms that calculate your dial-in to give you even grater accuracy FOR YOUR CAR. This can be done with each of the databases within the program, allowing different databases for different cars to be kept on one system, each having its own unique calculation algorithm.

Data Back-up facility. Your database(s) can now be backed up to floppy disk (or other media) for safe keeping.

Improved Printing. The printing facility now allows you to print either a screen image or a text version for each run.

Easy to Use Toolbar. All the functions of the program are accessible from the toolbar, making using the program even easier.

On-line Help. An on-line help manual is available for your convenience during use.


This software requires Windows 95/98/NT/2000 with a screen resolution of 800x600.
This FULL, unlimited, version of this software is available for download. It is limited to 20 uses, unless a registration key is bought. The cost of this key is just US$30 which makes this the best value Weather Station software available.

The registration key can be purchased online, via a secure server giving you instant access to your software.






If you have any further questions about the Weather Station Database, please




---